2nd part continue
From the old testament  that's go into the step of none debts. People are more happiness. the city are going to be much advances in the righteousness ,and the truth.
Thinking in this way aren't only in Thailand, The group of westerner also. They have the meeting and writing many books. For example. the person named Frijof Capra. 
"The turning point" ,and "The Toa of physics" writer. He has written those book about...... 
last 20 years ago   
Frijof Capra Has given the maditation's comment about this reforming for 20 years!
The new generation of the medicine are going to reach of the dead end. People are going to find the treatment in other ways step by step.
,And other amazing thing is the writer, and the thinker. Who has these opinion, Or even the country. Who has economy and the political problem. They also using king of Thailand's deployment. They aren't thinking only about the money that those are the greatest, But they are trying to  find the way of happiness, peaceful, smoothness, and the righteousness in this globe. Rather than looking for the power of economy that's making the eternal and unlimited war that using those power to fight each other. These writer and the thinker are less. At last they found out that. These people are the Buddhism at all. Particular Mr. Frijof Capra. He has the monk's chamber either in his home.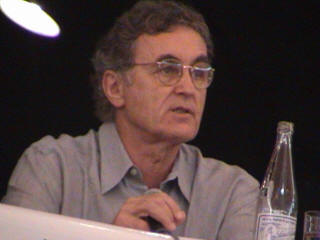 (Mr. Frijof Capra website source http://www.geocities.com/Athens/Acropolis/9568/bachelard1.jpg)
From the prove the subjects 65% from the Amarica, Europe, Australia, Canada, and the other. they are looking for other way of treatment. From step to step and so many they changing to Buddishm.
 And the main other prove that making sense is the best seller book that writing about the health care of Dr. Deepak Chopra. The American who from india Doctor. Who succeed the Amarica health care academy. In India healthcare academy are widely popular.
(Dr. Deepak Chopra source from 
www.onebodymindspirit.com)   

They are the same as The book named "Spontaneous healing" of Dr. Andrew Weil M.D.(Harvard).
In England they have the Dr. who live and heal in the Berminghamp palace 200 years. His name is Dr. Margery  G Blacky M.B.(Homoeopathy) He wrote the book named "Patient not the cure" 
These Dr. are really cares the healing the patient in totally ways as the most serious way to cure the people, But today Those treatment way on present day are use much waste. sometime they using more than the nescessery.
Now you have to thinking about the History..............lol history is the main point of this site hahaha, And you going to see that in Thailand. Counting since.................... 
Sukothai(1342-1442)Ayutthaya(1433-1851)-Thonburi(1852-1867)-Rattanakosin(1890-present).             Thai people are cures by the native Dr. and the clinic at all until 1888AD. King Piya the great(Rama.V) has deployed the hospital Siliratra